Outdoor Training During COVID-19 Restrictions in Scotland
COVID-19 has stopped us doing many things that we enjoy such as socialising, going to concerts and taking part in group exercise. At fitandhappy we offer outdoor personal training sessions and outdoor boot camps. Both are currently allowed in Scotland. Outdoors, we can easily adhere to all the COVID-19 new rules including social distancing.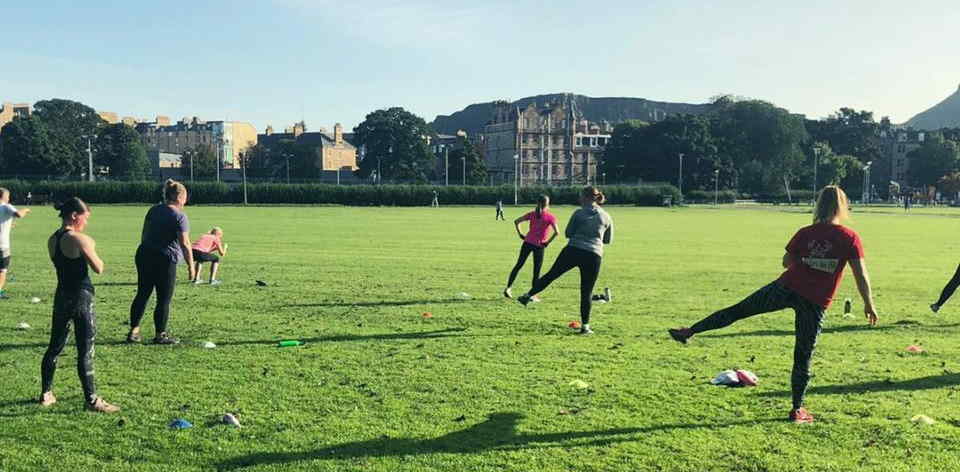 Our regular boot campers are loving being back to outdoor boot camp. The mixture of fresh air, exercise and meeting their fellow boot campers for a chat is great for their physical health but also their mental health. It's a little normality in these strange times.
Boot Camps For Sports Teams & Sports Clubs
As indoor group training for adults is currently not permitted, we are now offering outdoor boot camps specialised for sports teams. This allows the team to get together and keep fit and healthy whilst their sport is prohibited.
Currently, one of our specialised outdoor boot camps is for a local netball team. This boot camp is tailored to their specific requirements and fitness levels. They are a social team and have requested exercises to work on general fitness and strength.
We like to keep our sessions fun and interesting. We focus on a different aspect each week. We work on cardiovascular fitness, strength, endurance and agility. The team will be able to resume their regular netball training feeling confident, fit and strong.
Feedback from the team is that they are loving training together again even if it isn't netball. The sessions are relaxed and social but at the same time everybody gets pushed to be the best they can. A few are surprised how much they enjoy being outside on a dark, cold night!
Specialised Outdoor Team Coaching
Whether you are a very competitive badminton club or a social volleyball team missing training we can help you. Our specialised outdoor boot camps in Edinburgh, not only allow you to meet up again but we will make sure you are fit and ready for your next match or game. Our training sessions can cover general fitness or be tailored to your sport.
Although our bespoke outdoor fitness coaching sessions were created as a result of COVID-19 restrictions, they provide valuable, complementary training for any sport at any time.
If you would like more information about these classes or would like to book some boot camp sessions for your club or team, then please get in touch. Our personal trainers and boot camp instructors have the skills and qualifications to create a training session that is perfect for your needs and ability.