Boot Camp Frequently Asked Questions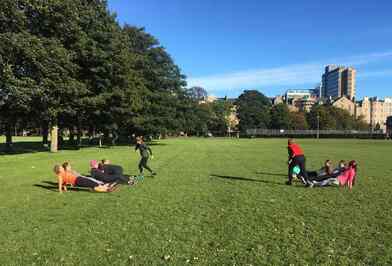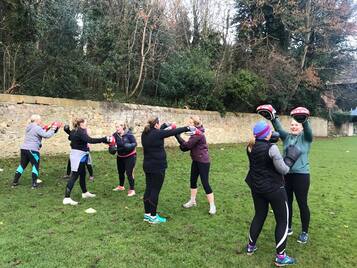 What is a boot camp?
This really depends on the type of boot camp. Some boot camps are indoors, some outdoors. Some are military style and some are friendly and supportive. Some have lots of equipment and others are bodyweight only. Most often the term is used to describe an outdoor exercise class. The fitandhappy boot camp is fun and supportive and for women only. We welcome all ages and fitness levels. And we won't shout at you. Promise.
Is a bootcamp better than going to the gym?
This depends on what you prefer. Do you like to be outdoors or indoors? Do you like to lift heavy weights or do you prefer fun equipment or bodyweight workouts? At the end of the day the best exercise is the one you do regularly so do whatever you enjoy most. At fitandhappy we love being outdoors amongst the trees and getting the extra boost to our mental well being. fitandhappy boot camps are also social so you get to have a laugh whilst working out hard. Double bubble.
What is in a boot camp workout?
Anything from squats to burpees and sprints to kettlebells. Some boot camps are bodyweight only and others bring portable equipment like battle ropes, dumbbells, TRX, resistance bands, boxing equipment etc. It should be varied and fun. The fitandhappy boot camp uses a mixture of bodyweight only exercises and some that require equipment such as resistance bands and boxing gloves. All equipment is provided by fitandhappy.
Do boot camps work for weight loss?
Boot camps can be a great way to help you lose weight but you will also need to make changes to your nutrition. It's really difficult to lose weight through exercise alone. Combine both exercise and healthy eating and you are on your way to success. If you would like more support with weight loss our personal training service that includes nutrition coaching may be the ideal choice for you.
How many calories do you burn in an hour of boot camp?
This depends on the intensity of the class and can range from 400-800 calories.
What is a boot camp class like?
Depending on the type of boot camp, there will either be some equipment like small weights or resistance bands or simply your own bodyweight. There might be some team games and partner workouts. Focus should be on high intensity fun and camaraderie. At fitandhappy we ensure our exercises are suitable for women of all ages and levels of fitness. We are always supportive and friendly and make sure everybody feels welcome. Every class is different and you'll never get bored.
Is boot camp exercise good for you?
As long as you have a good coach who corrects form and pays attention to every member, boot camp exercises are just as safe as others. The fitandhappy boot camps have limited places so that we can focus on form and give individual feedback.
How much are boot camp classes?
This depends on the size, quality and location of the class. You can find anything from £3 - £15 per session in the UK. Please view our boot camp page for our latest prices.
Do you lose weight in boot camp?
It is possible to lose weight and lots of people do but often not without making changes to their nutrition at the same time. Julia McCabe at fitandhappy is a weight loss specialist and can provide you with advice on weight loss.
Will I be fit enough for boot camp?
There are many different types of boot camps out there with options to suit all fitness levels. At fitandhappy we cater for all from beginner to advanced. You will work out hard and you will be pushed to be the best you can but at your own pace. We never compete with each other and we provide different options for different fitness levels. Exercise should leave you feeling energised and happy not exhausted.
What should I wear for an outdoor boot camp?
You will be outside in all weathers so it's a good idea to layer up. That way you can add or remove clothes as you need to. Trainers with a good grip and a decent pair of gloves (ideally waterproof) are advised. A thin breathable waterproof jacket comes in handy too. Other than that just wear whatever you are comfortable in.
How many times a week should I do boot camp?
For best results we recommend at least 2 sessions per week. Our clients see a big difference in strength and fitness once they up their sessions from 1 to 2 or even 3 a week.