fitandhappy - Female Personal Trainers and Edinburgh Boot Camps for Women
We give you the support, accountability, and expert coaching you need to revolutionise your fitness and wellbeing.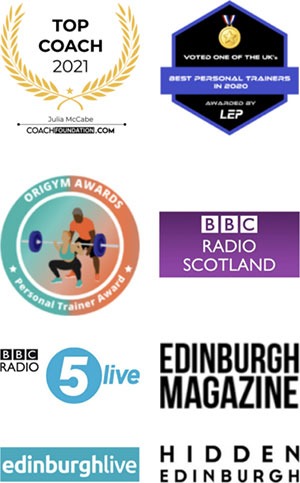 Voted one of the best Personal Trainers in the UK in 2019, 2020 and 2021
Our expert female personal trainers and nutrition coaches will help you get the results you always wanted. And you'll even enjoy the journey.
​Come along to one of our women-only outdoor boot camps or group classes in Edinburgh. If you want a bit more support go for one-on-one coaching. Our mobile personal trainers will meet you at home or outdoors in Edinburgh. If you live further afield, don't worry. You can still work with us through live online coaching from anywhere in the world.
In Person or Remote Coaching Online
With so many personal trainers in Edinburgh it can be difficult to choose. How do you pick the right one?
​
The answer is it depends on your goals. Our area of expertise is weight-loss and improved confidence for women. Our female personal trainers are fat-loss specialists and will help you reach your goals.
We know you are busy and we understand that you are juggling a lot of things. Fitting in a healthy lifestyle on top of everything else can feel daunting. We are here to help!
We are on a mission to end dieting for good. We want to empower as many women in Edinburgh as possible by helping them to feel fit, happy and confident in their bodies. ​
By choosing fitandhappy you will work with Edinburgh weight-loss expert, Julia McCabe and her team. Julia intelligently combines personal training and nutrition coaching to help you adopt a lifestyle where exercising and healthy eating become a habit.
In a park near you in Edinburgh and live online
Whether you want to get fit, lose weight, find your core or just make exercise fun again, why not check out our very popular boot camp for women in Edinburgh.
The fitandhappy boot camp is supportive, friendly and welcomes women of all ages and fitness levels.
As we come from a personal training background, we limit our places so the groups don't get too large. We focus on form, giving feedback to everyone. We do not compete with each other but you will get pushed to do the best you can.
​All sessions are fun and light-hearted as well as super effective. We like to mix things up. No session is ever the same.
We understand life is not regular or predictable, so you can attend classes whenever you want. You book one, two or more classes per week over a block and you can just turn up as and when it suits you.
Get the latest news, updates and special offers delivered directly in your inbox.
Learn The 3 Essential Keys To Start Feeling Fit, Energised And Confident
Claim Your 30 Minute Personal Training Consultation
Make changes that last

​We use a habit-based approach that integrates latest science with practical real-life solutions. No fad diets or quick-fixes. Together we will build healthy habits that last a lifetime.

Female coaches and personal trainers

Non-intimidating, friendly and with experience. We know what we are talking about.

No extremes

No extreme calorie restrictions, weird pineapple diets or juice detoxes. If it's extreme, it's not sustainable. 

Flexible

We have a can-do attitude and will work around your life's challenges. Bring your dog, meet in your lunch hour, or work with a training buddy. Whatever it may be, we will make it work.

Empathetic, individualised and client-centred

We will put you, as an individual at the heart of the process. We will listen and really get to know you. It's your life and your body. To be sustainable the programme needs to be designed to suit your life.

Looking at the bigger picture of health

By combining exercise, nutrition, mindset and lifestyle advice we give you the best chances to create life-changing and permanent results. We are not just after weight-loss, we are interested in sustainable habits.  
Recent Testimonials
Watch these videos to find out why these 2 amazing ladies, Tanya and Amy love the fitandhappy boot camp.
My change in attitude to exercise never fails to amaze me now.
One stone down in one month. As someone who really struggles to eat a balanced and nutritional diet , I never thought I would get to a place where I could eat " normal". But now, thanks to Julia, I now eat 3 balanced meals a day, no calorie counting , lots of 'healthy fats" , no binges and no cravings !!! She is also a great personal trainer and my activity and strength has increased tenfold in the past 4 weeks. I've got a long way to go but I can genuinely say that Julia has turned my life around .
Fit & Happy give an excellent individual service. Julia is a lovely person to spend time with, totally listens to what you want, then designs unique approaches that fit with your life. I am already feeling stronger and more energetic!
I started with Julia a month ago. I have lost a stone and have learned how to eat a balanced diet. No calorie counting... no cravings anymore ( that took a few weeks to pass) and no binges. Julia has changed my attitude to food which I didn't think was possible.