Personal Training for Women in Edinburgh or Online
Women-specific health and fitness coaching to get you results that last.
Train at home, outdoors or online. We'll come to you.
Voted one of the best Personal Trainers in the UK in 2019, 2020 and 2021

Are you fed up feeling tired and uncomfortable in your own skin?
Are you juggling so many things that you can't find the time or willpower to make the necessary changes?
Do you keep trying different diets or health regimes but nothing works long-term?
Do you often feel exhausted?
It's time to do things differently!
Get fit and feel full of energy
so you can live more and do the things you love
Stop relying on willpower
so you can feel relaxed around food
Lose weight and keep it off
so you never have to diet again
Enjoy exercising and nourishing your body
so you can live a healthy life without the stress
Create healthy habits that last
so you never have to 'start again on Monday'
Let's do this together!
We believe that a fitter and healthier you is a happier you.
​
Our female personal trainers and wellbeing experts love to help busy women like you get results that last. Without dieting or counting calories.
We show you how to feel fit, energised, and confident. Even with a busy lifestyle.
Are you ready for Personal Training?
Want to revolutionise your fitness ad wellbeing? Our personal training is designed to help you do just that.
We believe in creating sustainable, healthy habits that you can maintain for life.
Say goodbye to restrictive diets and hello to a balanced, enjoyable approach to healthy living. We'll show you how to make small, manageable changes that add up to big results.
You'll be amazed at how quickly your new healthy habits become second nature. And the best part? You'll feel better, both physically and mentally.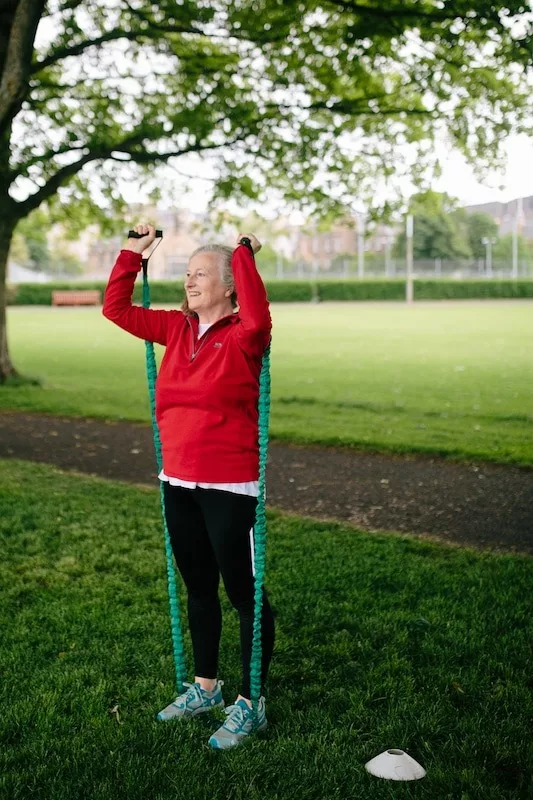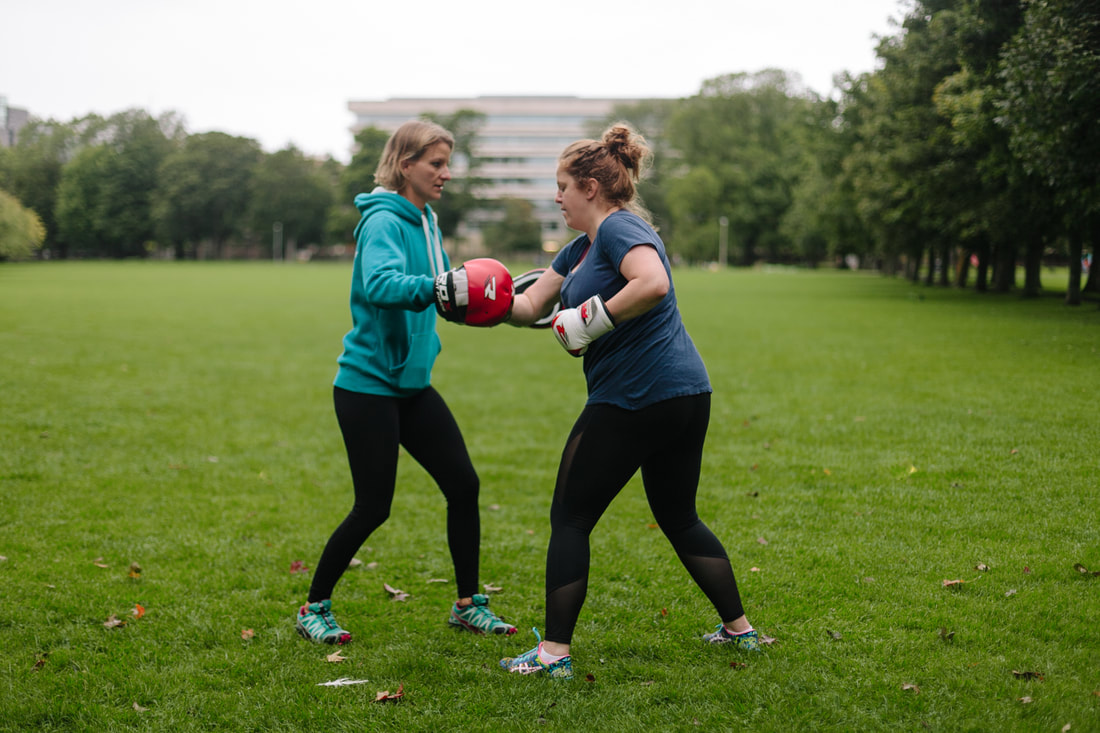 By choosing fitandhappy you will work with Edinburgh female fitness expert Julia McCabe and her team.
Julia's approach intelligently combines personal training, nutrition and health coaching to help you adopt a lifestyle where exercising and healthy eating become a habit. 
Your programme will be designed exclusively for you and your coach will really get to know you. Your personal trainer will stay in touch to keep you motivated in between sessions.
You'll have access to our on-demand workout library for fun workouts in between your PT sessions. Or if you prefer, we design home workouts just for you.
You'll receive personalised nutrition and lifestyle coaching via our very own fitandhappy app. The app is also the place where we'll keep track of your new healthy habits and where you can see your progress.
Are you ready to take control of your health and transform your life? Schedule your free consultation today.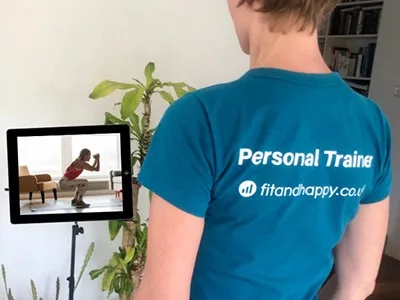 Personal Training - What You Get
All our coaches are highly qualified female personal trainers. We love to help women like you feel fit, confident, and happy.

Empathetic Exercise Coaching
No pre-made one-size-fits-all workout plans but proper personal training with a female coach who cares deeply. Your workouts are personalised and designed to suit your body and your goals.

Straightforward Nutrition Advice
No fads, no calorie counting but science-based advice.
​Tailored to work in real life. Your life. If you like, you can track your nutrition on our App.
And yes, you can still enjoy the food you love.

Sleep and Stress Management 
We'll help you feel good inside and out. To reach your health and fitness goals managing your stress levels and getting enough sleep is just as important as exercise and nutrition.

Long-term behaviour change always comes with a mindset change. We'll help you get rid of limiting beliefs that are holding you back. Once you adopt a growth mindset anything is possible!

We'll teach you how to create habits that last. Through smart goal-setting and personalised habit tracking on the fitandhappy App we'll get you results that last.

Free Video-on-Demand Workouts
You'll have free access to our video-on-demand workout library. This includes cardio and strength workouts, Yoga classes and Stretch & Mobility sessions.

 The fitandhappy app is your one-stop solution for workouts, nutrition coaching, habit tracking, communication with your coach, and much more.

Fun and Laughter Along The Way
Despite being committed to a science-based approach we don't take ourselves too seriously. We like to keep things light-hearted and fun.
​Change happens when you're enjoying yourself.
fitandhappy gives an excellent individual service. Julia is a lovely person to spend time with, totally listens to what you want, and then designs unique approaches that fit with your life. I am already feeling stronger and more energetic!
I never imagined how much I could achieve in such a small space of time. fitandhappy helped peel me off the sofa and squat jump into my new, healthier life. Amy has been an incredible support throughout my weight loss journey. I can't recommend fitandhappy enough, they have turned my life around in so many ways!
I started with Julia just over a month ago. I have lost a stone and have learned how to eat a balanced diet. No calorie counting... no cravings anymore ( that took a few weeks to pass) and no binges. Julia has changed my attitude to food which I didn't think was possible.
Personal Training in Edinburgh or Online - Prices 
 The prices below are inclusive of VAT and represent your monthly payment based on one session per week.
You're welcome to choose more weekly sessions based on what best suits your needs. In fact, a lot of our clients train two and some even three or four times per week. Prices available on request.
Not sure? We'll help you choose the most suitable option at your initial consultation based on your goals, availability and monthly budget.
fitandhappy Coach 
Train with one of our female fitness experts. Price is based on 1 session per week/4-5 sessions per month
get fit

---

get strong

---

get confident

---

lose weight (if that's your goal)

---

make healthy living easy

---
fitandhappy Senior Coach
Train with one of our top-rated female fitness experts. Price is based on 1 session per week/4-5 sessions per month
get fit

---

get strong

---

get confident

---

lose weight (if that's your goal)

---

make healthy living easy

---
fitandhappy Head Coach 
 Train with Julia McCabe, fitandhappy founder and head coach, voted one of the best PTs in the UK.
get fit

---

get strong

---

get confident

---

lose weight (if that's your goal)

---

make healthy living easy

---
Login into your Member Portal Here
Meet Your Personal Trainers
All our coaches specialise in healthy and sustainable weight loss for women and use the fitandhappy approach to Personal Training which combines both nutrition coaching and exercise.
Julia McCabe, Personal Trainer, Body Confidence and Wellbeing Coach, Menopause Transition Coach, fitandhappy Head Coach
​
Julia is the founder and head coach at fitandhappy. She is a very experienced personal trainer and body confidence & wellbeing coach recommended by women throughout Edinburgh.
Julia is an expert in sustainable behaviour change and is passionate about helping women to free themselves from the endless cycle of dieting.
As a certified menopause transition coach, she has a particular interest in helping midlife women thrive despite hormonal changes. Julia can help you make lifestyle and nutrition changes so you can regain your energy and live life to the fullest.
As a busy mother of three Julia knows how tricky it can be to make time for your own health and fitness. She is compassionate and always on your side.
Jemma Valentine, Personal Trainer and fitandhappy Senior Coach
Jemma has a passion for the outdoors and brunch. She is keen to show you how little habits can make big changes to last you a lifetime. The outdoors provides so much more than a place to exercise, it changes your mind, your mood and your attitude.
Jemma discovered the importance of fitness back in 2012 when she worked in the Alps, went skiing most days but found recovery incredibly difficult due to an overindulgent lifestyle! She enjoys all kinds of movement and is on a mission to bag all 282 of the Munros in Scotland.
When not coaching for fitandhappy you can find her running, cycling or on a Pilates reformer.
She is ready to support you and drive you forward so you can achieve your goals and she doesn't want you to wait until Monday. Today is your day.
Kat Scott, Personal Trainer and fitandhappy Coach
Kat is from Lanark, graduated with a Honours in Business Management from Edinburgh Uni in 2019 and has recently returned back to Edinburgh after 2.5 years of living in Sydney.
Kat played badminton and rugby throughout school and university, then found her passion for weight training in Sydney.
Australia opened Kat's eyes to the great outdoors and differing training styles, leading to the completion of her PT course in 2021.
Kat loves all things health and wellness from adventure weekends, ocean dips, brunching, to practicing mindfulness, journaling and weight training.
You'll find Kat coaching at The Meadows Inverleith Park and Victoria Park. She's also available for personal training.
Laura Jones, Personal Trainer and fitandhappy Coach
Laura is an ex-probation officer, who changed careers to become a personal trainer and wellbeing coach. She created more balance in her own life and loves to support others to make positive changes in their lives that they never thought would be possible.
Laura has recently returned from 5 years in New Zealand working as a Personal Trainer in Wellington. When Laura isn't at work she will be found out on the mountain biking trails having a blast, or in the gym lifting weights.
Alex Robb, Personal Trainer and fitandhappy Coach
Alex qualified as a Personal Trainer in 2015, her journey into the fitness world starting after being diagnosed with an autoimmune disease. Seeing what a massive impact exercise and a healthy balanced diet had on her confidence and health, she knew this was the right career path.
She loves food and cooking. Alex feels passionate about it and loves recreating her favourite dishes, making them more nutritionally dense so she can still enjoy all the food she loves.
At the weekend you'll find Alex walking her dogs, eating good food and spending time with friends and family!
Don't want to go it alone? Buddy up for Group Personal Training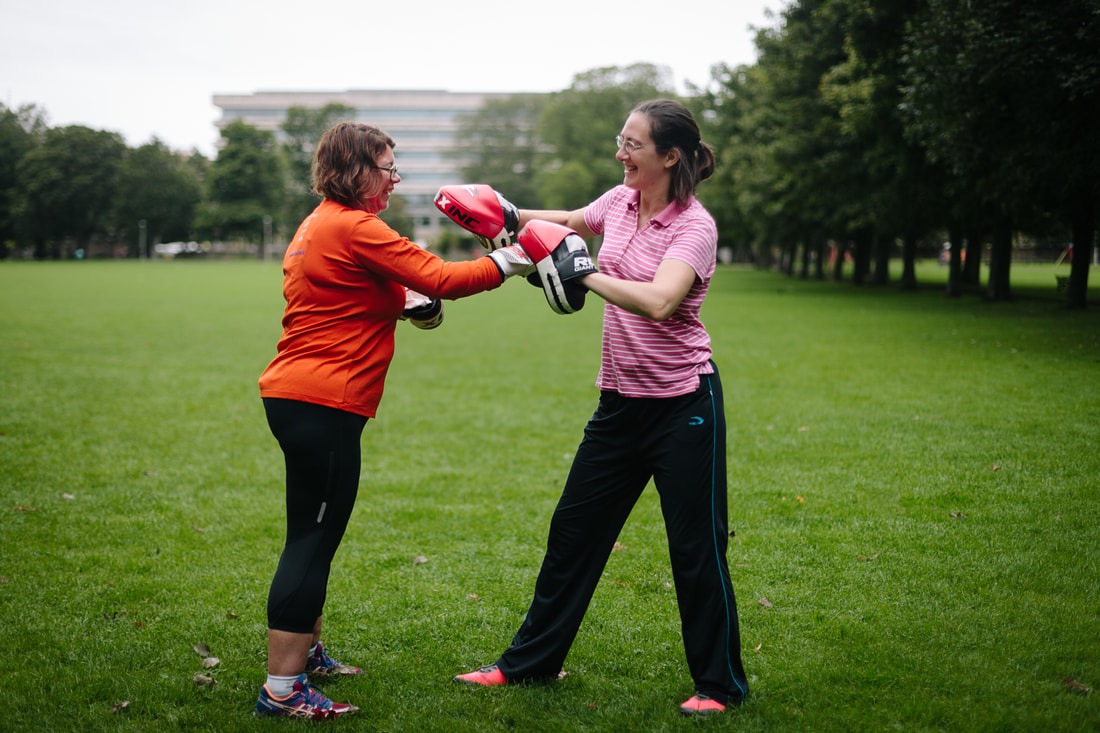 Train with a buddy. This option makes it more affordable and can be a good choice for those who like to work with a partner.
​The programme is slightly less individualised but works well as you have to be accountable to your buddy.
If desired you will be given a monthly home workout programme that you can do by yourself or with your friend/partner/husband.
​
Choose your preferred workout space. Often the outdoors work best for this as we are not restricted by space.
Train once, twice or up to five times per week​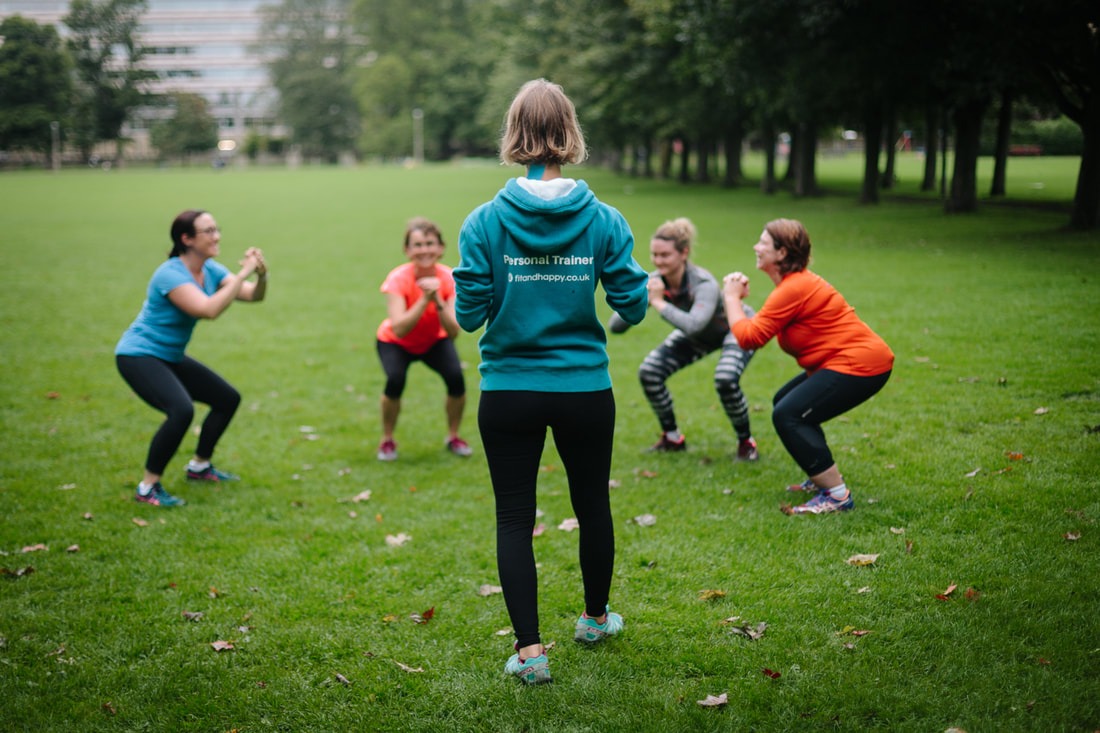 Less personalisation but more affordable and best suited to those who like to work in a team.
​Skip the cappuccino and muffin and meet in the park for a workout instead. It's great fun working out with your friends and it ensures you are being surrounded by supportive and likeminded people. People who try to lose weight in a group often see the best results.
If desired you will be given a monthly home workout programme that you can do by yourself or with your friends. ​
Train once, twice or up to five times per week
​