Edinburgh Meadows Boot Camp
Our first and ever popular boot camp is held in the Meadows.
The meeting place is in the Meadows, opposite Victor Hugo Cafe on the corner of Melville Terrace and Livingston Place. Postcode: EH9 1LP.
​Our Autumn term is open for booking now and runs from Monday 25th October until Saturday 18th December
Want to attend class at multiple locations? Click here for an all access pass.
The morning boot camps in the Meadows are led by Julia. Julia founded fitandhappy and is a personal trainer and nutrition coach. Julia is supported by our wonderful coaches Amanda, and Iona.
Here is our outdoor timetable:

Classes are kept small and personalised, based on our personal training ethos, so they work for a wide range of fitness levels. All classes are 45 mins.
We are going through challenging times. Nobody knows what will happen over the coming weeks and months and as a small business we will continue our fitness sessions whilst keeping everybody safe. We are committed to help you stay active and do something positive for your physical and mental wellbeing. Together, we can get through this!
Thanks for your commitment and support, we really appreciate it.
​MONEY BACK GUARANTEE : Get a full refund if you don't like it after your first session.

Want to attend class at multiple locations? Click here for an all access pass.
​Unsure if the fitandhappy boot camp is for you? Watch the video below to find out.
Boot Camp For Women in Edinburgh
Going for a coffee after boot camp is popular, and the local Cafe Victor Hugo's is our favourite place after a good workout in the Meadows.
​
Our boot camps for women run in blocks, often in line with the Edinburgh school terms, so you pay for a block of typically 4-6 weeks. You choose how many sessions to come to but we recommend at least 2 per week for optimum benefits.
We are flexible about attendance because we know life is not always regular or predictable - come any time, any day, any week in the block.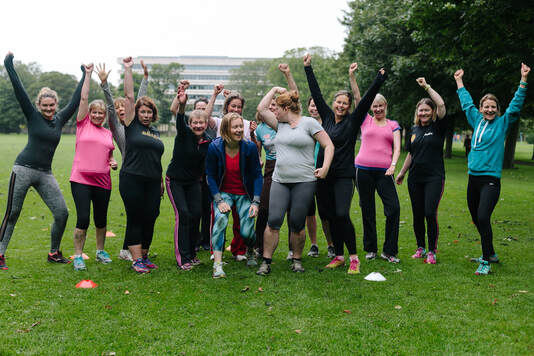 Fitandhappy's boot camp has been an essential part of my weight loss journey. I've now lost over 4 stone in 15 months. Because I have enjoyed the boot camp so much, I've kept going, and kept eating healthily. It's become a fun part of my life and I now know lots more people in the neighbourhood."
- Frances, Edinburgh.