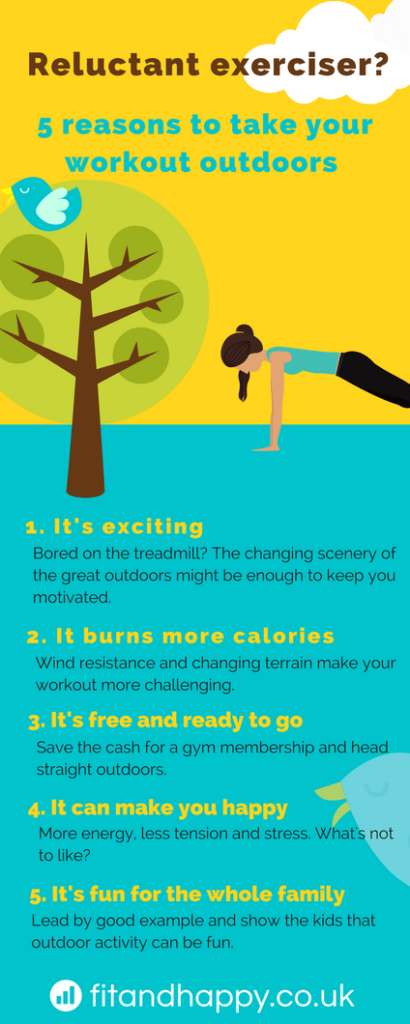 Exercising outdoors has been shown to have numerous benefits over exercising indoors. If you are struggling to be consistent with your exercise you will be pleased to hear that there is also some research* that suggests you are more likely to stick to your exercise routine if you take your workout outdoors. That's great news for all reluctant exercisers. There is hope after all. Before you give up exercising altogether you might want to try the great outdoors. Let me know how you get on.
And despite popular belief, it is possible all year round – even in Edinburgh.
1. Exercising outdoors is exciting
If you are amongst those people who get bored after 10 minutes on a treadmill (or 2 minutes in my case) the changing scenery of the outdoors might be enough to motivate you. See how many different type of trees you can count whilst out running, walking or cycling. Can you name them?
Maybe you can spot some creatures like birds or squirrels. Once you start paying attention you'll be amazed at the wildlife out there (even in cities).
2. Exercising outdoors burns more calories
How about this for motivation: Compared to covering the same distance on a treadmill you will use up more energy striding across the ground outside. This is mainly due to the wind resistance and changes in terrain you face outdoors. For a similar effect you could turn the treadmill onto a 1% incline, but what's the fun in that?
3. Exercising outdoors is free
Don't want to spend the cash on a gym membership? The great outdoors are free and always ready to go. No class timetable, opening times or waiting for the cross trainer.
4. Exercising outdoors can make you happy
Research** shows that 'compared with exercising indoors, exercising in natural environments was associated with greater feelings of revitalisation, increased energy and positive engagement, together with decreases in tension, confusion, anger and depression. Participants also reported greater enjoyment and satisfaction with outdoor activity and stated they were more likely to repeat the activity at a later date.'
5. Exercising outdoors can be fun for the whole family
No time to exercise? Why not take the whole families outdoors for some quality time together? Lead by good example and show the kids that being active outdoors is not just good for you but also great fun. A run around in the park, a bike ride or a walk in the woodlands will benefit everybody.
​There are many more benefits to exercise
Not quite ready to brave the outdoors by yourself?
Sources:
* https://www.scientificamerican.com/article/older-women-who-exercise-outdoors-more-likely-to-stick-with-it/
https://www.ncbi.nlm.nih.gov/pubmed/8887211
** https://www.sciencedaily.com/releases/2011/02/110204130607.htm
​http://pubs.acs.org/doi/abs/10.1021/es102947t
J. Thompson Coon, K. Boddy, K. Stein, R. Whear, J. Barton, M. H. Depledge. Does Participating in Physical Activity in Outdoor Natural Environments Have a Greater Effect on Physical and Mental Wellbeing than Physical Activity Indoors? A Systematic Review. Environmental Science & Technology, 2011; 110203115102046 DOI: 10.1021/es102947t